Well known Christian movie actors, Mike and Gloria Bamiloye, who have over the years produced and directed Christian movies to propagate the Gospel of Christ, are celebrating their 28th wedding anniversary today October 8th.
On minister's Facebook wall, Mike Bamiloye narrated how they got married and lived their lives literally trusting God… He celebrates his wife and children who he says all lived and their lives in faith…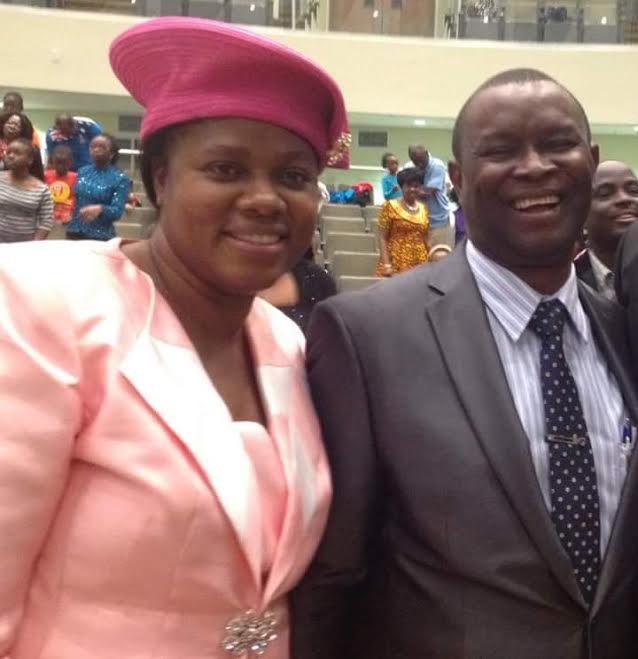 "A marriage born out of raw faith in the Lord alone. We were two years into full time drama ministry when we married on this day 28 years ago. I had spent all the money I had on ministry matters and I had no more money.

TODAY I REMEMBER THAT IT WAS JUST MAY, THIS YEAR, WE GOT OUR MARRIAGE CERTIFICATE FROM A REGISTRY IN IBADAN.

So we married without a Government marriage Certificate. WHY?

We both went to Ilesha registry to file for the Marriage Certificate when it was two months to our wedding, but we did not have the money to pay for the Registration. We were to pay about N120 or so, but we did not have the money. So we told the registry we would come back and we never went back, because we did not have the money. therefore, it was the Church Certificate only we had until May this year, when it was demanded at an embassy for Visa.

Then, I searched the house and came up the Church Marriage Certificate, and I then remember that the Visa Officer would not accept that. So, I went to a Registry in Ibadan and secure OUR GOVERNMENT MARRIAGE CERTIFICATE after 28 years.

The Marriage was born out of deep faith.

I remember it was my Best Man who bought my Wedding Suit and shirt. May God bless him wherever he is now. It was my Sister-in-Law who bought the shoes i wore on my wedding day. It was a ministry member who gave us money to sew the Wedding Gown, because we had already gone to a place where we could rent the Wedding Gown. It was the money my Sister-in-Law sent to us I used to deposit for the seats in our living room. May the Lord bless Sister Taye, my sister-in-law.

It was my Mama-Sister, (my elder sister) who got the 3-Room-Flat we married into. she paid the first year rent. May the Lord ever blessed MUMMY Felicia Adesiyan. It was my another elder sister who got the Boys Bridgade that played for us as we were driving into the Reception place at Ilesha Grammar School, in a car that belonged to one of my Cousins.

I remember all the monetary gift given to us on the Wedding Day were used to pay some outstanding debts incurred on ministry printings we made before the wedding and some debts on the wedding programs. So three days after the Wedding, we had no money again and the idea of Honey-Moon never even crossed our mind, because there was no money to attempt such luxury.

I REMEMBER, that the following Saturday, our ministry had a drama ministration in Ilesha, at the Advertisers for Jesus Christ, Ishokun, Ilesha. That was a week after our Wedding Day. AND GLORIA OLUSOLA AND I HAD TO STAND BESIDE THE ROAD LOOKING FOR A LIFT THAT COULD CARRY US TO ILESHA.

There was absolutely no money on us, a week after our wedding, to go to our next drama ministration. So, I had to walk to my Elder Sister's house, to ask her for money to travel. She gave us enough money. God bless Mummy Adesiyan. We travelled to Ilesha and met the brethren waiting for us at the venue of Ministration of our first outreach after wedding. That was then…..28 Years Ago.

OUR MARRIAGE WAS BORN OUT OF DEEP-ROOTED FAITH….